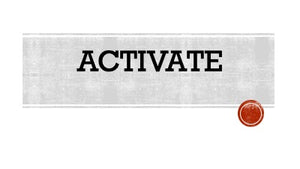 This collection of 100+ theatre activities and games will give your students the opportunity to develop vocal skills and demonstrate effective use of the body while having fun! Many exercises are provided to stimulate creativity and the student's use of the imagination. Your students will look forward to warm-ups and activity time each day as they navigate through the many games and activities provided. Online access to demonstration videos is also included. The downloadable zip file also includes video demonstration links.
All of our instructional materials will be delivered electronically. You are limited to 2 downloads. Download and/or print immediately upon receiving your materials.

NOTE: Each time you open the file on a device directly from the Maestro Theatre Publications site you have effectively downloaded the file and used one of your two downloads. Only two downloads will be allowed in order to protect copyrighted materials.
There are no returns or refunds on any of our resources, so please contact us with questions prior to making a purchase.
By purchasing this product you agree to the Maestro Theatre Publications "Terms of Service"