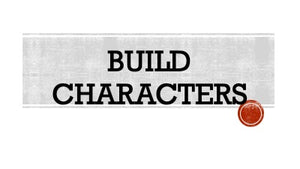 Action, Communication, Thought,(ACT): an Actor's Guidebook for Building Character instructs an actor from the audition process, through rehearsal, through the complexity of building a character, and finally to the performance.
In addition to guiding the actor to create a stage persona, ACT also addresses the value of living as a respected, professional person-of-character.  Honorable human traits, or character, are built through pride in one's work, respect for others, pleasure, passion, and collaboration.
ACT provides the skills to improve your craft and you.
All of our instructional materials will be delivered electronically. You are limited to 2 downloads. Download and/or print immediately upon receiving your materials.

NOTE: Each time you open the file on a device directly from the Maestro Theatre Publications site you have effectively downloaded the file and used one of your two downloads. Only two downloads will be allowed in order to protect copyrighted materials.
There are no returns or refunds on any of our resources, so please contact us with questions prior to making a purchase.
By purchasing this product you agree to the Maestro Theatre Publications "Terms of Service"